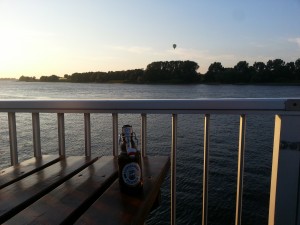 Aus verschiedenen Gründen, vor allem aber, weil ich die Domain anderweitig brauchte und ein hin und wieder polemisch angehauchtes Politikblog nicht wirklich zu dem passte, was ich dort vor hatte, hatte ich mein Blog an alter Stelle im letzten Jahr geschlossen. Mit blieb das Antibürokratieteam als Plattform für politische Artikel Wie ich am vergangenen Wochenende festgestellt habe, wurde meine Bloggerei zwar durchaus vermisst, dass es das Blog an sich schon eine ganze Weile gar nicht mehr gab, das hatte aber anscheinend niemand so richtig bemerkt.
Wie dem auch sei: Eigentlich brannte mir schon seit einigen Monaten unter den Nägeln, mir wieder einen Ort zu schaffen, an dem ich meine Gedanken etwas ausführlicher ausbreiten kann, als auf Facebook und gleichzeitig auch nur mal ein Video oder ähnlich kurze Postings absetze, wenn mir danach ist. Dieser Ort soll ab sofort filterblog.de heißen und es wird explizit nicht nur um Politik gehen. Ich habe kein echtes Konzept dazu, was ich hier genau machen will aber schätzungsweise landet hier unter anderem all das, was ich auf Facebook nicht posten will, plus hin und wieder – und hoffentlich öfter als bisher – politische Artikel. Letztere werden dann in der Regel natürlich sowohl hier als auch beim A-Team erscheinen.
Die Artikel des alten Filterblog sind natürlich alle noch vorhanden und liegen sicher verwahrt in meinem Datenarchiv. Eventuell importiere ich die irgendwann noch mal in dieses Blog, zunächst will ich aber an dieser Stelle quasi von Null starten.
As for glucuronolactone, a can of Red Bull does
wholesale nfl jerseys
contain 600 mg of the stuff, which is 250 times a person's normal intake. What are the effects? Nobody knows. The reason there are so many rumors about it is that there have been almost no studies into what it actually does. We don't even know if it actually gives you energy.Fill your goody bag with a variety of football themed candy and novelties. Select candy that coordinates with the colors of your
Ray Ban Outlet
favorite team, or, if you do not have a favorite team, choose green and white candy to represent the colors of a football field. You might also include chocolates wrapped like footballs. Purchase inexpensive football themed novelties in bulk from a party store such as erasers to mix in with your candy. For one special boy at the party, make a goody bag with a real football or player trading cards included. Award this to the guest who wins a football themed competition such as a throwing or catching contest.That right, we grouping the usually tumultuous
Wholesale Jerseys
NFC East together. The division is having a fine year. It the only one in the league without a team with a losing record. At the same time, all of these teams could come crashing down to earth at anytime. The Cowboys could botch this quarterback decision. We don really now if the Eagles quarterback orcoach are any good yet. And the Redskins are totally going to overpay Kirk Cousins. That leaves the Giants, who may have been in the top 10 of these rankings if they hadn completely botched the Josh Brown situation.Our greatest Socceroo is playing for Melbourne City purely because a rule has been invented to make it to happen. Part of his salary is coming from a centralised marquee fund, which no other club has yet been
nfl jerseys cheap
able to access. So the whole of the competition has subsidised the recruitment of a player who clearly gives one club a competitive advantage.What floors me about this is how many people automatically assume that the cheer is about being pregnant or having large breasts. How many of you are or were cheerleaders? Can you honestly say that your backs didn ache
Wholesale China Jerseys
after a couple of hours of training or practice? Why can it simply be about a kid who been out there doing flips and splits and bouncing around who now has a backache? I never was, but seeing what cheerleaders do, I can imagine not having a backache by the end of a game, ya know?You have to be able to tackle people. You're the last line of defense between the ball carrier, whether it's a running back, the quarterback, or a receiver, and the goal line. You have to be able to tackle people. As far as pass defense goes, you're the deepest guy, nobody gets behind you.